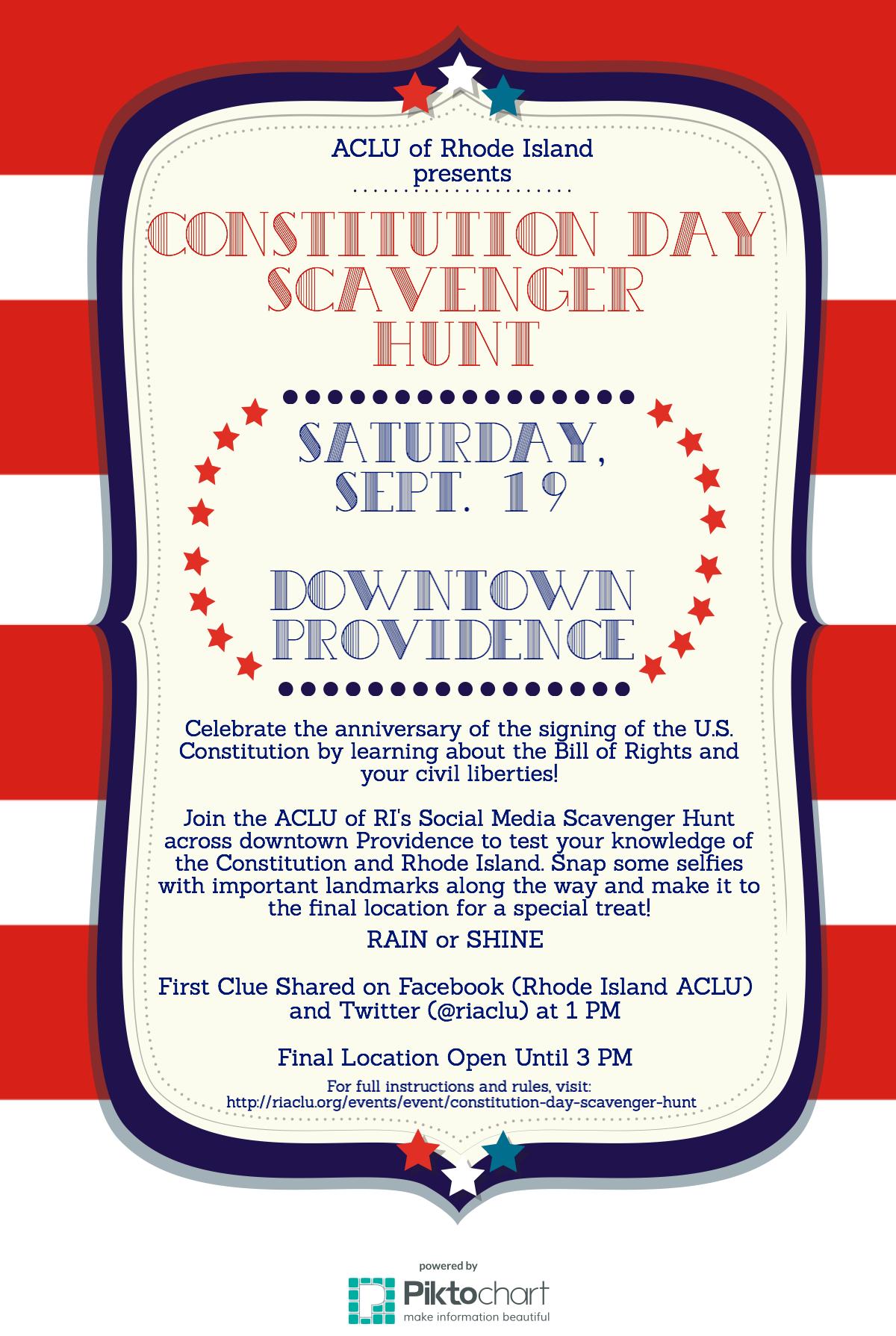 As the state's strongest defender of your rights and freedoms, the ACLU of Rhode Island is excited to announce our plans to celebrate Constitution Day this week by hosting a family-friendly scavenger hunt highlighting Providence's civil liberties history. Constitution Day marks the anniversary of the signing of the United States Constitution on September 17, 1787. Americans across the country observe the anniversary by teaching students about the Constitution and Bill of Rights. This year, the ACLU of Rhode Island is hosting a Constitution Day Scavenger Hunt on Saturday, September 19, to teach Rhode Islanders of all ages about civil liberties and local history.
The family-friendly scavenger hunt will highlight Providence's civil liberties history, and we hope the event educates the public, and especially children and teenagers, about the Bill of Rights and importance of knowing one's rights.
So, think you know your Rhode Island history? Want to learn how the Constitution applies to everyday life? Put on your walking shoes and head to downtown Providence on your own or with your friends and family on Saturday, September 19, to start the hunt!
We'll start sharing clues on our Facebook and Twitter at 1 p.m. (Rain or shine). Use them to start a self-guided hunt for landmarks around the city. Once you arrive at a stop, snap a photo (selfies are encouraged!) and share it on Facebook or Twitter with the hashtag #ConstitutionHunt. Make it to the final location to earn bragging rights and a small souvenir.
(RSVP On Our Facebook Page Here)
Saturday, September 19
1 to 3 P.M.
Downtown Providence
For full instructions and official rules, visit: http://riaclu.org/events/event/constitution-day-scavenger-hunt